Summertime may not seem like the most obvious time to talk about fire safety. However, between cookouts, campfires, and pyrotechnic displays, fire danger at home and elsewhere can be at its peak during the hottest months of the year. Here are some tips to help you enjoy the summer safely.
Fireworks
Before you set off your own fireworks, be sure your aware of the local laws regarding pyrotechnics, fire hydrant testing, etc. Some communities ban all types of consumer fireworks, while others allow only certain types.
Sparklers seem harmless, to the point where even communities that otherwise prohibit fireworks will allow them, but they can still reach temperatures that can cause severe burns if handled incorrectly. Children should be allowed sparklers only under adult supervision.
Most communities have public fireworks displays for the Fourth of July. These are the safest ways to enjoy fireworks, and they put on a much more impressive show anyway. Your best bet may be to leave the pyrotechnics to the professionals.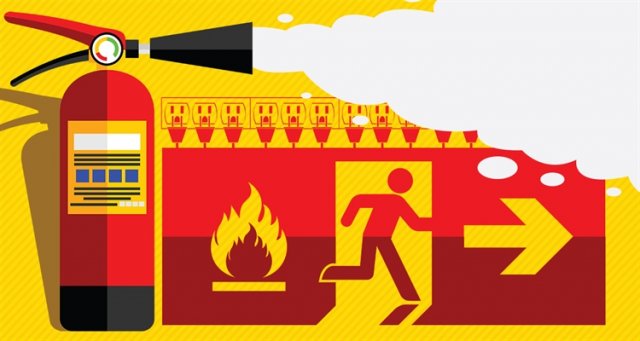 Grills
Cooking outdoors on the grill is a great way to create special family memories during the summer. The key phrase is "cooking outdoors." With the exception of certain small electric units, grills are not meant to go inside the house. Misuse of a grill could lead to a fire.
Regardless of what kind of grill you own, it is also important to keep it clean. The gunk that can accumulate on a gas or charcoal grill could cause an accidental grease fire.
Campfires
A campfire is fun and relaxing, but make sure you don't become so relaxed that you fall asleep by the fireside. The fire could start burning out of control without you to watch it. Make sure you keep a bucket of water near the fire at all times, and try to keep flammable materials (extra kindling, paper, foliage, etc.) well enough away from the flames to prevent them from accidentally igniting. Put out the fire completely when you are finished with it, and be sure to stir the ashes after dousing it.
Nothing spoils a good time like an out-of-control conflagration or burn injury. Following these tips can help ensure the fun continues all summer long.